Mobimax for Direct Selling is a Mobile Publishing Solution that creates and delivers digital content such as eBook, Multimedia, & Interactive Publications to mobile devices such as Smart Phones and Tablets. Mobile Publishing Solution is suitable for Digital Publishing, Training, Sales Enablement and more.
Multi-Platform Mobile Solution for Direct Selling Companies
A Full-Ready, Highly Customisable Mobile Publishing Solution for Direct Selling Companies. Publish Marketing, Communication and Training materials for Members as well as other handy features to optimise Direct Selling experience.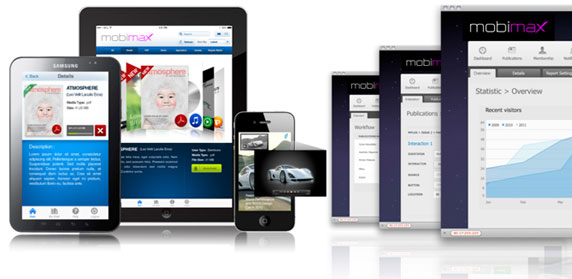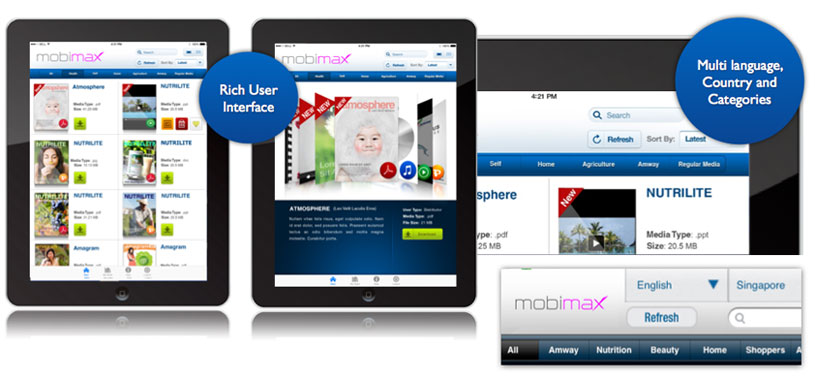 Content Catalogue / Store
A powerfull Content Catalogue that allows users to download latest materials, with intelligent features and ease-of-use.
Presentation: Cover-flow view and Tile View
Multi-lingual, Multi-Country
Multi-leveled Catagories
Sorting by File Type, Date and other options
Search within Store and search within shelf
Content Labelling: "NEW", "FAVOURITE" & etc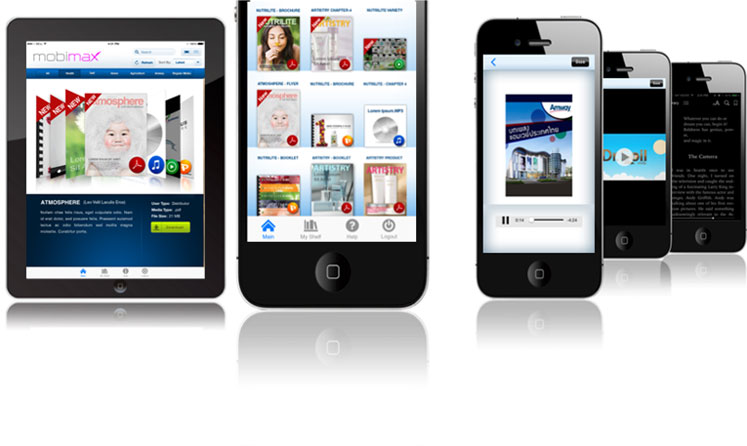 Content Shelf / Library
All downloaded materials will be kept in the Library, so that content can be access anytime, without the need of internet connection.
Presentation: Cover-flow view and Tile View
Multi-lingual, Multi-Country
Multi-leveled Categories
Sorting by File Type, Date and other options
Search within Store and search within shelf
Support Multi File Types
Easily publish multiple formats of your content such as Powerpoint, Video, Audio, PDF, Interactive Publications and much more.
Video & Audio
Powerpoint & PDF
Interactive Publication
E-Book and more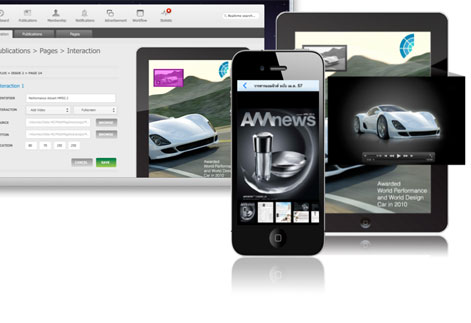 Create Rich Interactive Publications
The reader Module turns your publication into an Interactive, engaging content with Videos, AUdios, Interactive Picture, Social Sharing and mant more. This takes your content to the next time!
Attach Video & Audio
Embed HTML Elements & PDF
Interactive Images
Open HTTP Links, Send Emails
Share via Facebook, Twitter & Email
Bookmark Features
Interactive Table of COntent
Multi Orientation Pages

Powerful Content Management System
A very powerful CMS that allows user to create and manage all publications.
Includes a smart Workflow Management
Solution that Manage reviews & publishing with a organised workflow method.
Advanced features such as Bandwidth Management, IP Restriction Security, which makes this system truly meant for Entreprise usage.
Create Duplicate & Manage Publications
Publish for Review Publish To Store
Bandwidth Control
IP Restriction (Security)
Multi-level Workflow
Review Mode On Device
Editor's Mode to Approve / Reject / Publish
Publishing Scheduler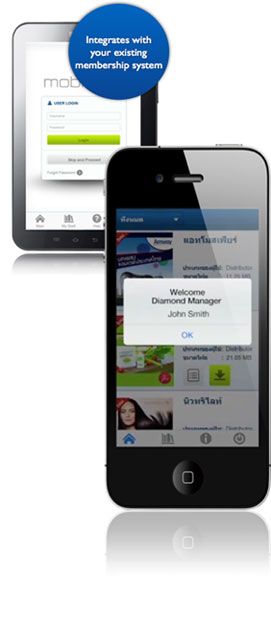 Membership System
Comes with a powerful membership system. Able to plug into your existing Membership database to create a Single-Sign-On
Multi-level Privacy
When you publish a content, you can assign content to a specific levels of your members, so that it can be targeted accurately.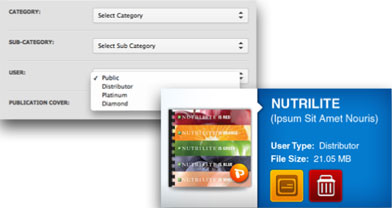 Powerful Analytics
Mobimax comes with a powerful Analytics System. Track Downloads, Understand your user's behaviour, track demographics and turn it into business intelligence.
Trach Downloads & Views
Trach Geographics Data, Demographic and much more
Download & Extract Statistics
Generate Reports
Case studies
The Amway E-Library Mobile App
The E-Library App is a mobile app that is dedicated to Amway Malaysia's distributors. This app allows it's members to download latest E-Amagram ( Interactive Magazines ), training materials, newsletters and more.
This solution is Integrated with Amway's membership system, multi-language and multi-country. Currently being implemented by Amway in other countries.
Digital support for Amway's Members on Apple iOS & Android devices.
Multi-Lingual:English, Mandarin & Bahasa Malaysia
Multiple countries:Malaysia, Singapore & Brunei
Single-Sign-On:Integrated with Amway Membership
Multi-Level Membership:Distributors, Diamonds & etc
Interactive Magazines:Video, Audio, Touch Interaction
Support Native Documents:PDF, Words, Powerpoint
Push Notification:Mobile App based Notification
Bandwidth Management, Powerful Digital Security