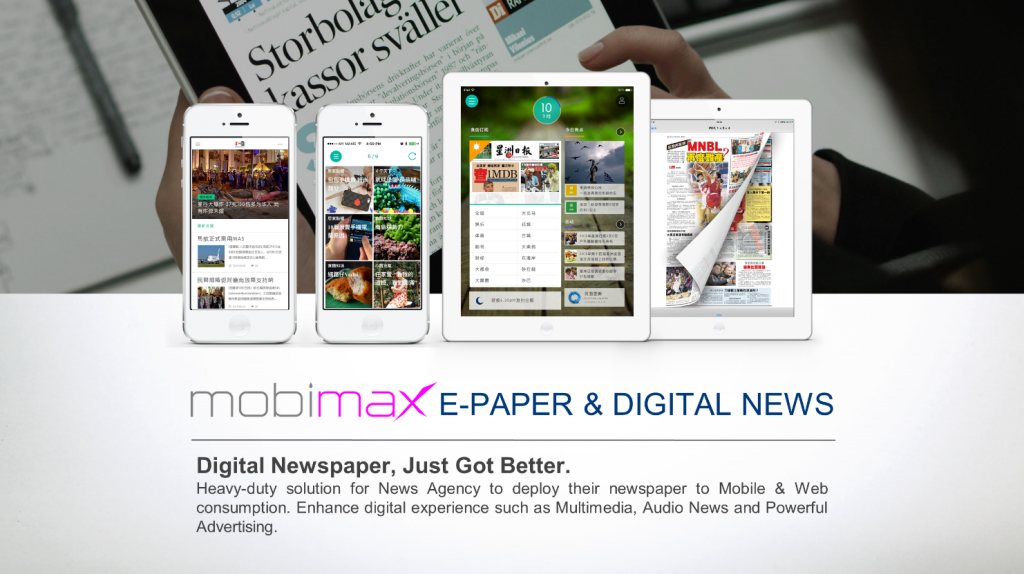 Mobimax E-Paper & Digital News Solution is an all-in-one new generation solution platform for News Agency to deploy their publications to mobile and web consumption.
The solution offers news agency an innovative approach to their customers e-paper and digital news reading needs. Mobimax's content management system offers intuitive administrative interface that features a powerful catalog-management engine and advertisement placement control, giving news agency the power to create variation of products that provides a rich e-paper and digital news reading experience for their customer, tailored to their unique business needs.
Check out our case study on Sin Chew E-Paper App here, or continue to read to discover the features of this solution.
Creatively Digitizing Newspaper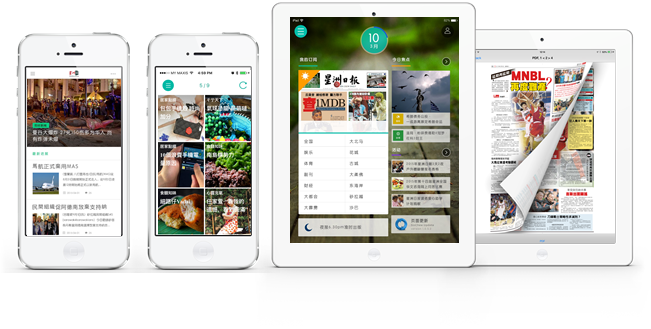 Our new generation, innovative technological solution offers news agency to sell their printed publications in to digital through Mobimax in a form of e-paper / digital news. Have your customers view your publications in single spread or double spread on tablets, search for articles through your extensive database of publications, and smooth zoom without any loss of quality.
Unique Interactive Multimedia Functions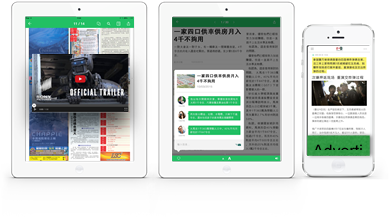 Improved user experience with a wide range of embed multimedia interactions such as videos or audio files, photo galleries or webpages, YouTube videos, PDF or email contacts placed strategically on each page to cater all your business needs. This new approach allows customers to be actively engaged with all publication. It generates much more interaction with your publications that benefits to social sharing exposure.
Cross Platform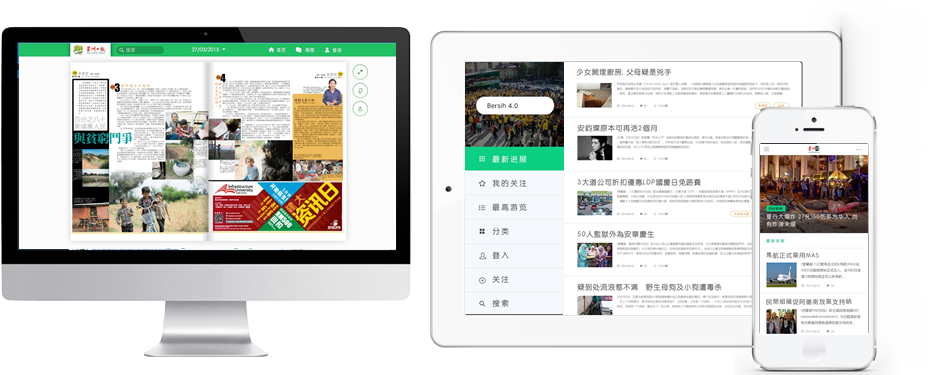 Seamless integration on smartphones, tablet, mobile website, and desktop website with consistent flow of user interface and experience.
Subscription & E-Commerce Shop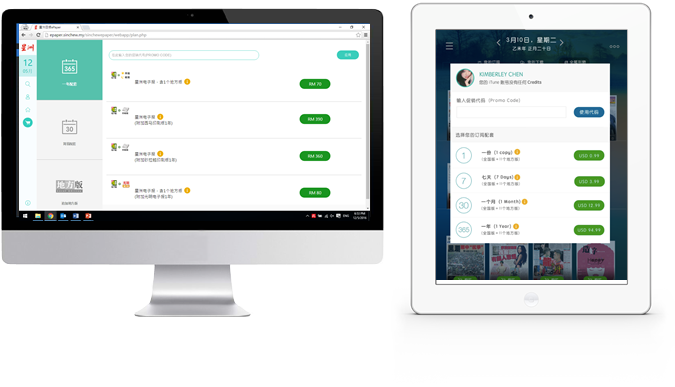 Increase store performance with Mobimax E-Paper & Digital News solution's powerful administrator control panel to conveniently setup and manage bundles of publications as a product, setup attractive promotional coupon and integrated coupons system for the ease of more sales. The platform utilizes native Apple's in-app purchase and the already integrated iPay88 credit card payment system, also scalable to be integrated with any payment gateway.
News publication experience through Flipboard Experience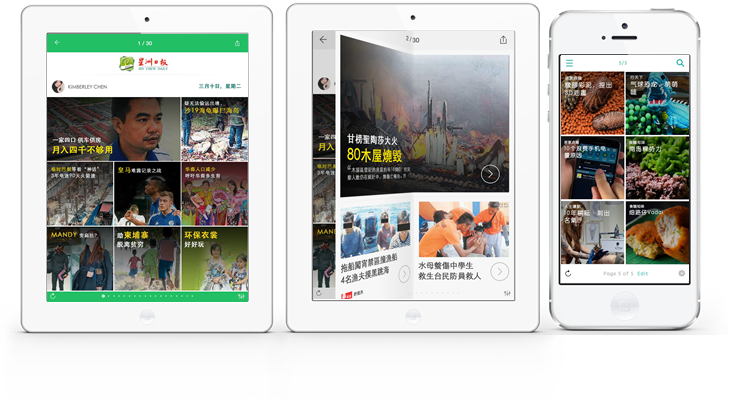 Allow customers to browse great magazines & lifestyle articles through the Flipboard feature. Manage contents interactively to customizable layout, or linked to news agency website, have the articles delivered more exclusive that enhances user's experience.
Powerful Advertising & Promotional tools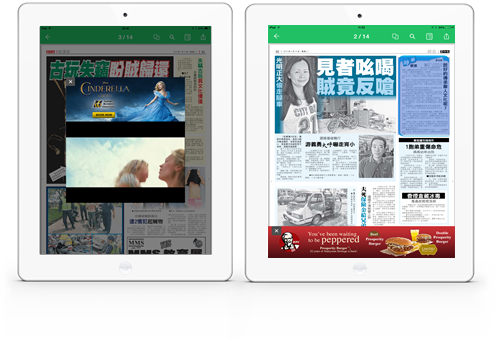 Manage interactive business advertisement anywhere within the app, may it be on designated articles, specific news or on the timeline panel. Offer great promotions to promote interactive usage & utilized proximity marketing designated target customers. Mobimax E-Paper & Digital News solution is optimized to give business advertisers the maximum advantage and exposure.
Effective use of Push notification
Notify customers of breaking news or latest trending articles will open up the designated content. Our push notification also works with social feeds and trending topics.
Professional Service Level Agreement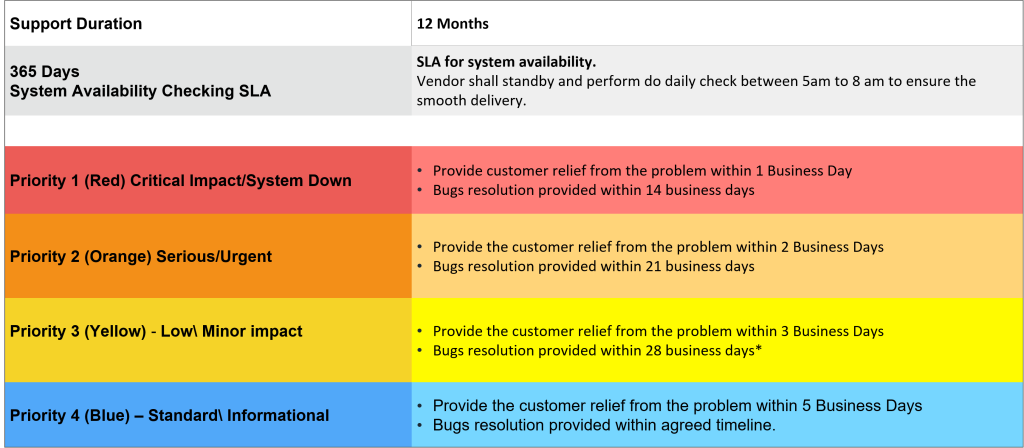 Our already standby body of professionals are ready to tackle any unforeseen and arising issues any time on a 24/7 basis, carrying the responsibility of taking immediate action when the situation arises. Giving a relief for publication and news agencies to continue to carry on with their business.
Extensive Disaster Recovery Plan & System

Mobimax E-Paper & Digital News Solution DRS offers a holistic approach to business resiliency. All live data are protected with a backup server which is mirrored and synced daily. This system's goal is to provide zero down time & a quick turn-around, our overall business recovery is backed by Mobimax's SLA.
Mobimax E-Paper & Digital News Solution General Feature List
Authentic Store Front Design
Customizable store front interface design
Custom publication display

List view
Tile view
Single publication view
Cover flow view (iPad)

Publication sorting by

Alphabet
Media type
Section
Latest

Multiple list of categories
Library

Displays all downloaded articles and publications

Shopping page
News Experience Through Flipboard
Native Flipboard UX
Integrate any publications on agency's web portal news
RSS Integration with section linkage
Customizable HTML news layout
Manage your Flipboard content with an administration control panels
Web Service / API for front end
Helpful User Settings
User account settings
Auto delivery
Remove article, publications and issues
Download only on Wi-fi
View in full screen mode
Feedback connected to news agency
Powerful Download Functions & PDF Processing Module
Uploads of publications and articles PDF files to processing server, action can be automated and scheduled
Upload and control social sharing processes with page thumbnails and meta data
Email notification when processes are all completed
Data logging for uploads and processes
Web Service APIs to query uploading status & processing status
Download publications for local storage. Background download for selected sections (defined by users)
Downloading time, automated download process can be scheduled by users
Settings for download only when Wi-Fi
Selection of multiple downloads
Selection of multiple delete
Delete all downloaded files
Notification section
Accomplished Membership module
Three (3) layers of Admin panels

Super Admin, full control of all administrative settings and functions
Content Developer, full content management access and control

Manage, create, delete and submit contents

Editor, Review & approve all contents

Review submitted contents for publications

Manage your customer's data & delivery service data
User profile, logs, update profiles and password reset
Backend user configuration
Access right configuration
User registration & login module

Registration can be made through Facebook or Google Plus

Email notification to successful user registration
Web service API for data queries
Interactive Publication Creator
Manage & define publications
Manage sections (Categories)
Manage spare sections (Predefined)

Create new sections
Add sections
Rename sections

Archiving period
Manage the period of publications for readers to read old publications
Delete the sections published and reprocess with the new files and publish again
Create, manage, define and attach embed multimedia to pages

Video
Audio
Embed HTML elements
PDFs
Images
Insertions
Open HTTP links

Set display criteria based on target audience

Product, user group, devices or combination of all criteria

Embed web forms
Display page previews
Workflow module
Unpublish
Effective E-Commerce & Subscription Options
Manage your products with any combination of sections and publications as a product
Define your subscription period for each products
Define product validity period
Setup voucher codes to apply discounts on existing products
Setup free trial for products
Manage shopping page display
Product purchase data API
Tabulate multiple subscription period
Send email notification of confirmed subscription
Send email reminder to notify customers of expiring subscription
Manage and view customer subscription
Free preview settings

Display free reading sections

Manage subscription module records
Import or export customer subscription data
Mobile devices & desktop access settings
User control panels quantity of mobile devices and desktop access simultaneously
Lock/unlock devices control panel for admin panels
Powerful Breaking News
Breaking news ticker on Homepage
RSS news feed by category
Deep linking RSS news feed to the publication pages
Breaking news admin panel
Options to automatically push-notification
Creative Use of Web Form
Display web form within Reader view
Sections to view all web forms
Web form item management
Links to interactive module creator
Secure Payment Option
iOS payment gateway using native Apple's in-app purchase
iPay88 payment gateway integration
Invoice email to customers
Disaster Recovery Plan & System
Auto switch module
Backup server
Sync module
DSR module
Mirroring module
Disaster recovery server implementation
Disaster recover switching module
Daily synchronization
Data Migration Module
Migrate subscription data, app publishing with smooth transition, transfer bookmark to new app
Reader able to view the existing issue, based on customer subscription
Informative Analytics & Reports
Integrated with Google Analytics & Flurry
Admin dashboard for report overview
Subscription order report
Customer report
Active connection report
Downloading volumes report
Daily production report
API/Web service for report extraction
Promptly & Effective Service Level Agreement
3 Tiers of service level agreement

Server priority service levelv

System availability check reporting (365 Days)
Standard service level
Professional service level agreement setup
Quick response time
General problem relief for any unforeseen issues
Issue resolution timely & secure