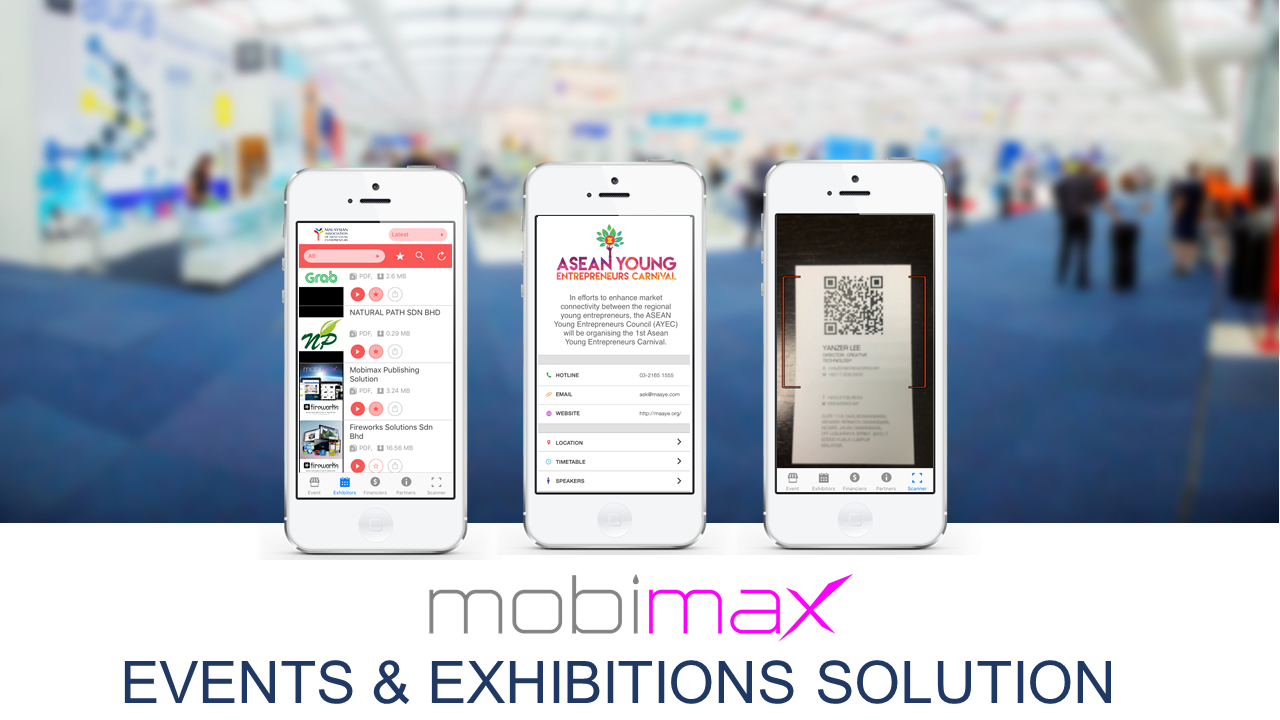 Fast, Affordable & Highly Customizable Solution
Mobimax's Event Solutions offers event organizers an engaging and professional approach to their event/conference needs. Completely equipped with registration, abstract, and program modules, giving event organisers the power to launch a successful engagement with all attendees, exhibitors, sponsors and stakeholders. All tailored to your unique event needs.
Features
Stunning & Customisable design
Choose from one of the many design template or have us redesign the application's interface to fit your event agenda and corporate style
Innovative content engagement with attendees
Incorporate ground-breaking technologies during your event for QR code scanning to share contacts or browse website to utilizing iBeacon's technologies to control your event's desired flow
Digital show guide & agenda
Reduce printing cost and have all your event contents, schedules, exhibitors, keynote-speakers, anything an event needs, we can put it in.
Resource Documents
Upload any documents for stakeholders, attendees & exhibitor instantly on-the-minute
Sponsor & exhibitor promotions
Increase your event revenue by having their banner advertisement placed within your event app, promote anything with a simple push notification, engagement with iBeacon, social networking, business match-ups and much more!
Interactive Map & Floorplan
Allow your attendees to interactive with the floor plan for their easy navigation, or change the flow of your attendees' direction with a simple navigational functions within your floorplan.
Customisable Features
Above all else, any features an event requires, rest assure that Mobimax Event Solution is extensively customizable to cater for all your business needs.
Support
App setup & full data management
Technical support
Dedicated Project Manager
Case Study

Features :
– Access to information of the Event
– Access to Company Profiles of Exhibitors, Investors and Partners.
– QR Code Scanner to Scan and Download : Business Profiles, Websites and Contact Card
About Event:
In efforts to enhance market connectivity between the regional young entrepreneurs, the ASEAN Young Entrepreneurs Council (AYEC) will be organising the 1st ASEAN Young Entrepreneurs Council and will be held at MATRADE, Kuala Lumpur on the 29th and 30th of July 2016 at the side of AYEC's 1st Annual General Meeting.
The Carnival will see participation from all 10 ASEAN member States (MAS), with a forum, expositions and Business Awards Programme all housed under one roof. The first-of-its-kind Carnival will be the only ASEAN programme under the economic pillar that is held to digitalization and automation, start-up and e-commerce ecosystem, enhancement of intra-ASEAN trade, alternative access to finance, the Priority Integration Sector of ASEAN, sharing of best practices and many more.